Fukushimashinden's Rice Terraces
Rice terrace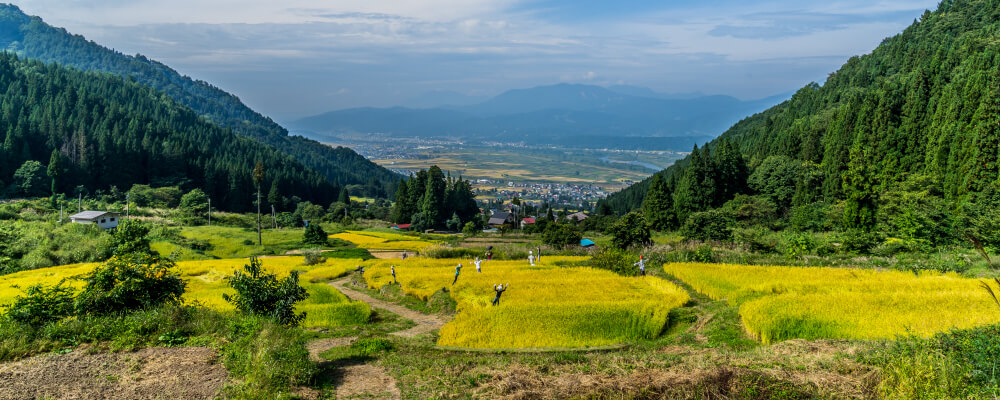 These rice terraces, where the Chikuma River flows gently below and you can glimpse the five Hokushin mountain peaks off in the distance, are recognized as among "100 Selected Terraced Rice Fields in Japan."
Constructed in the Edo Period, the special characteristic of the "New Fukushima Fields" is the beauty of their stacked stone walls. Seeing how it was constructed so that stones jut from the walls into the passage between fields to form stairways, we get a very good sense of skill and craftsmanship of our predecessors.
Amidado, a location used in director Takashi Koizumi's 2002 film "Letter from the Mountain," still stands, and you can experience the ambiance of the film there.
This area produces a lot of stones, so in addition to the stacked stone walls, there are 33 stone Buddhas called the Sanjusansho Kanzeon along the path to Mt. Manbutsu. These stone Buddhas were made in imitation of the Saigoku Sanjusanban in 1846. The path from the first Kannon next to Fukushima.
Shrine to the 33rd Kannon at Manbutsu Rock takes about 1 hour on foot.
Information
| | |
| --- | --- |
| address | Mizuho, Iiyama City |
| since | Edo Period (circa 1668) |
| access | About 20 minutes by car from Iiyama Station |