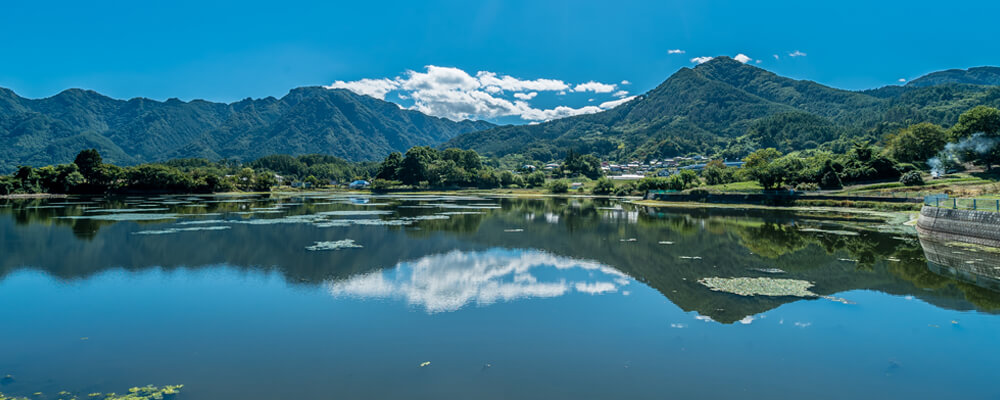 Yamada Pond was the largest reservoir in Shiodadaira until Sawayama Pond was made in 1938.
The pond has a long history, and while the date of its construction is unknown, in 1650, two ponds that were side by side were combined to form the present pond. The following story remains from when that work was done.
Before construction, the lord of the Ueda Domain looked over the plans, saying, "If we make such a large pond, there's a possibility Ueda Castle and the town could be damaged if the embankments were to break, so make the embankments one shaku (about 30 cm/1 foot) lower." Making the embankments even one shaku higher would make the reservoir hold much more water. But if the embankments were to break for some reason, a vast amount of water would assail the castle and town. As a result, the embankments were lowered by one shaku and Yamada Pond was made.
Around 1840, carp were raised at this pond, and the Ueda Domain grew medicinal plants as a business in a 3,000 tsubo (1 hectare/2.45 acre) herb garden on the shores of the pond.
Yamada Pond was constructed straddling Yagisawa and Yamada lands, but the person who oversaw all construction on the pond came from "Yamada in Ise (present day Mie Prefecture)," so it is said he took that place name and named the pond after it. At Yagisawa Funakubo, from where you can overlook the entire pond, is enshrined Amaterasu, which is said to have been brought from Ise Shrine, the highest rank shrine in the country, as a guardian deity for the pond.

Information
| | |
| --- | --- |
| address | Yagisawa, Ueda City |